19 junio 2013
3
19
/

06
/

junio
/

2013
13:20
PRIMERA PARTE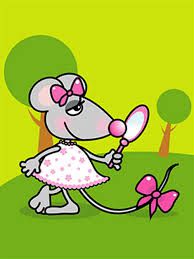 Once upon a time there were two mos respectable Rats. The Rats' home was comfortable and they had many fine children; but the one they loved most was their youngest daughter.
She was a lovely little rat; she had the smoothest grey coat, and the brightest little eyes, and such dear little ears! If you looked at her, you were sure that you had never seen anything so beautiful in your life. At least that is waht her own parents said.
When she was old enough to marry, they became very serious.
"She must have no ordinary husband, "they said. " He mus be very mighty indeed. No one but the misghtiest in the world shall marry our beautiful daughter."
But who was the mightiest? It was not easy to tell, and they didn't know. So they went to a very old and wise Rat, and asked him. His answer was:
"If you wish to give your daughtr to the mightiest of all, then go to the Sun, and ask him to be your son-in-law. I am sure no one es mightier than the Su."
So Mr and Mrs. Rat went to the Sun (it's rather a long way), and asked him to marry their daughter. But the Sun replied:
"I'm much obliged to yo for coming all this way and offering me your dearly beloved daughter for a wife; but please tell me, why did you choose me?"
"We chose you, because we wished to give her to the mightiest in the whole world; and of course no one can be mightier than you".
"I see" said the Sun;"but I'm afraid you are wrong there's one mightier than I am, and you must give your daughter to him."
"Who can be mightier than you?" asked Mr rat; and the Sun made reply:
"When I wish to shine on the earth, a Cloud often comes along and covers it, and my light can't (can not) pass through it or drive it away. You must go to the Cloud."
So Mr. and Mrs. Rat went to the Cloud and told him their wish.
(Continue)